Property photo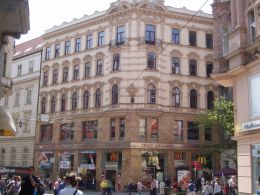 More photos of property

Property description
STING Real Estate Agency is offering commercial real estate for rent. The office premisses are located in storey, brick building which has — floors and is in very good condition. There are 0 parking places. For more information or to arrange the viewing of the property please contact our real estate agent.
Commercial real estate for rent, Brno / Brno-město
price

12 200 CZK/month
property code

47091

district

Brno-město

locality

Brno / Brno-město
usable area

109 sq. m

object type

storey

office kind

office

offices area

109 sq. m

building type

brick

building condition

very good

parking

0
Send via e-mail
Print property
Save property card
Commercial real estate Brno - similar offers
Jana Šrámková
Phone: 724 670 532
Agent contracts
jana.sramkova(zavináč)stingcommerce.cz
QR kód


Co to je?
Office Brno
Milady Horákové 2031/1
602 00 Brno
Phone: 533 433 118
E-mail:

brno(zavináč)rksting.cz
Mortgage amount

CZK

Length of mortgage

yrs

Monthly payment

CZK