Property photo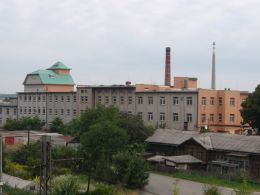 More photos of property
Property description
STING Real Estate Agency is offering commercial real estate for rent. The store premisses are located in storey, brick building which has — floors and is in good condition. There are 20 parking places. For more information or to arrange the viewing of the property please contact our real estate agent.
Commercial real estate for rent, Prostėjov
price

600 CZK/m²/year
property code

27251

district

Prostėjov

locality

Prostėjov
usable area

165 sq. m

object type

storey

office kind

store

offices area

0 sq. m

building type

brick

building condition

good

parking

20

other equipment

fence, elevator, security, gatehouse, sanitary facilities

transport

train, motorway, road, public transport system, bus

electricity

230V, 400V

water

district water distribution system, distribution of cold and hot water

waste

sewerage

gas

gas pipeline
Send via e-mail
Print property
Save property card
Commercial real estate Prostėjov - similar offers

Marie Vymazalová
Phone: 725 597 547
Agent contracts
marie.vymazalova(zavináč)stingcommerce.cz
QR kód


Co to je?
Office Olomouc
Opletalova 2
779 00 Olomouc
Phone: 585 209 999
E-mail:

olomouc(zavináč)rksting.cz

Mortgage Agent
Maštalíøová Libuše
Phone: 736 778 742
libuse.mastalirova(zavináč)maxfinance.cz
Mortgage amount

CZK

Length of mortgage

yrs

Monthly payment

CZK